Web developers and software engineers are in high demand right now, with more and more businesses looking to hire them as independent contractors to build out and expand their existing web applications and backend systems.
Great news if you're looking to get in on the action, but where do you start? Thousands of freelance sites offer various services, And Out of the many freelance sites, it can be hard to decide which one will provide you with the best web developers.
Even among the best, it can be hard to figure out how to get started by hiring one of these talents to work on your next project with you! Here are 15 top freelance sites where you can find great software developers to help create the next big thing in your industry or at least help make your site look amazing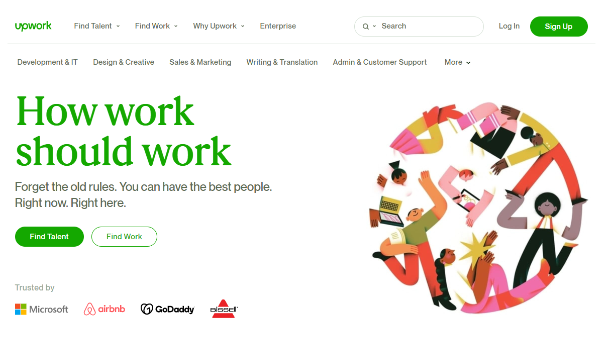 Clients and freelancers of Upwork can bid on opportunities across different sectors, including web design, software development, customer service, and accounting. With such a diverse selection of freelance talent available, clients can find the best fit for their needs and budget across the globe.
The platform is a great place to look for potential candidates if you're looking for someone with specific programming languages. However, you'll want to take note of the skills required before submitting your request to hire the best person for your project.
For example, when hiring a freelance developer on Upwork, clients should know what they need the freelancer for (i.e., front-end development vs. full-stack development) to find the best fit.
Clients and freelancers have plenty of methods of communication available. For example, clients can post a job, offer talent to work, or buy from the service catalog. Similarly, freelancers can use the job board and offer services for sale.
Pros
They provide access to freelancers all over the world.
Their platform makes it easy to find skilled developers in front-end development or full-stack engineering areas.
They also have many programmers with various levels of expertise in different languages. This gives employers greater flexibility when finding the right person for their team.
Cons
While their website allows you to find and hire top talent, there are restrictions on how much you can spend without getting verified first. It costs money to get confirmed, but you get access to exclusive deals and offers at no cost!
With 2.5 million people using the site daily, Fiverr is an excellent choice for those looking for freelance web developers. The site allows you to offer specific services or charge a set price per hour.
A team of professionals from various industries and backgrounds comes together, or gig, on your project. Along with freelance work, there are also many job openings for full-time employees if that's what you're looking for.
Freelancers can find business owners looking for services in various areas, including website design, game development, and app development.
Freelancers and business owners can interact via the website. Note that sellers are called sellers, their services are called gigs, and business owners are called buyers.
For example, Fiverr opens up a world of opportunity with 3.42 million active buyers and not hourly rates, just project-based pricing that you get to set. With an SSL certificate and around-the-clock customer support, buyers are guaranteed protection and satisfaction.
Pros 
You can easily get in touch with freelancers who can help you build an app at an incredibly affordable fee.
Payment options include PayPal, credit card, bank transfer, and wire transfer.
Cons
The downside to this website is that it has a high commission and requires multiple steps before users can order anything.
If you're looking for a freelance web developer but want to avoid the bidding wars common on sites like Upwork, check out Toptal. You'll be able to see pre-vetted candidates in your job queue based on their skill sets and rate them accordingly.
The best part? Job prospects with Toptal offer rates fixed at their current hourly rate from when they apply until the date of sign-on. That means you know what it will cost to hire the freelance web developer you need.
In addition, to ensure quality control, the service uses a filtering system to determine which applicants make it into the application pool. Then, for an extra fee, clients can request proposals from three freelancers before hiring one if desired.
There is no limit on how many hours a programmer can work for a client or how long someone's contract can last as long as both parties agree ahead of time.
What's more? Only the top 3% of freelancer programmers make it onto the platform. So what does this mean for you? Using Toptal, you can access some of the most talented professionals available.
They also provide full support after hiring a freelancer by connecting companies with great talent through various ways: live chat, email, and phone.
Pros 
It offers high-quality freelancers without spending days waiting for responses or sorting through low-quality bids.
Your next programmer could be just a few clicks away!
Cons
Pricing starts at $25 per hour and increases depending on the candidate's experience level.
A one-stop shop for all things freelancing, this site is the home of choice for any freelancer. Use their job board to browse hundreds of thousands of projects, hire a freelance web developer, or post your job listing.
You can also filter jobs by location and type. Then, once you've found the perfect person for your project, they can be reached through direct messaging on the site.
There are a variety of services, such as technology and research experts. Thanks to a wide range of expertise, clients can find the perfect professional.
Contests of various sorts are a valuable opportunity for freelancers to compete for prizes, improve their reputation with employers, and possibly even get paid for their skills. Although contests like these are often difficult to find in other places, they're easy to come across on Upwork (formerly Elance).
As an employer, you can search their website for contests in the appropriate category, review all the terms and conditions before entering, and enter your best submission.
Pros 
Live chat and 24/7 support.
There are thousands of top freelancers with professional experience in almost every field.
Cons
Payment methods may vary depending on your country; for example, PayPal isn't always accepted outside the United States.
Hiring freelance web developers is not an easy process. When looking for web developers, there are several important factors to keep in mind, such as whether or not the developer has the skills and resources necessary for your project.
Websites such as Jooble make finding a freelance developer much easier by letting you compare multiple candidates on their site based on these criteria, ensuring that you get a qualified professional for your project.
In addition, a website like this allows you to specify what type of freelancer you're looking for. So, for example, if you want someone with experience with JavaScript, then all developers with that skill will be available for comparison.
And if the freelancer's work seems promising but they don't have all of the qualifications needed for your job, it might be worth reaching out to them about taking on a smaller portion of it (like building some custom WordPress plugins) and see how they respond before committing to hiring them full-time.
But either way, take your time researching potential developers for your project; after all, quality does matter!
Pros 
No employer fees
Extensive coverage of various sectors.
Cons 
Because it is not geared specifically toward people seeking employment, some relevant postings may go unnoticed.
In addition to its reputation as an excellent platform for professional networking, LinkedIn also serves as a developer job board. LinkedIn has over 590 million members and over 250 million active users in over 200 countries, making it an ideal place to search for software developers with various skill sets and specialties.
If you're unsure what you're looking for, try searching by keyword or location. You can narrow your search results by entering JavaScript or Los Angeles keywords.
You can search for freelance designers or ask for recommendations from colleagues or friends. To get more specific, use keywords like a web designer or UX designer. Once you find someone willing to work with you remotely, review their portfolio to see if they have experience designing websites similar to yours.
Make sure to look at their previous work samples as well. Even if it's not quite what you need, it'll give you an idea of what the person can do so you can narrow down your requirements accordingly.
Don't be afraid to ask questions before committing, either! Asking about rates, deadlines and expectations will help you figure out whether this person is worth hiring or not. LinkedIn makes paying freelancers easy, too – pay through PayPal using a credit card, bank account transfer, or check (it's free!).
It might be the platform for you if you want to hire developers from around the world and from different levels of experience. LinkedIn's easy-to-use search filters, its Recommendations Feature, and its Premium Version all make it a handy tool for hiring developers.
In addition, the premium version gives you access to experts who are vetted and ranked by their connections on LinkedIn, so if you don't know where to start, this is a good option.
The recommendations feature enables company managers with connections on LinkedIn to recommend their employees based on skillsets and expertise; one advantage is that it helps HR departments find talented workers they may not have found through traditional means.
Pros
An endless stream of talented experts from around the world
A social and interactive platform
It's free
You get Unlimited access to brands, companies, and individuals.
Cons
The interface might be complex for new users.
Limited Moderation to Manage Scams.
Built by programmers from leading tech giants such as Google, Facebook, and Stanford, Turing helps businesses find top-quality programmers, developers, and engineers quickly and efficiently.
In addition to offering a no-risk 2-week trial, Turing's stringent hiring process screens candidates in all major technical areas, including systems design, coding, and more. So if you're looking for someone with deep experience, Turing is the place to go.
The company's founders know firsthand what it takes to be an engineer at a top-tier company like Google or Facebook, so they set up Turing with those criteria in mind. It's also much easier than going through traditional methods of finding freelance web developers because their system does all the hard work for you!
All of your info goes into one easy form, then Turing does its magic to match you with qualified professionals who are available immediately. In Turing's opinion, only one percent of the best developers are recruited.
Turing helps companies find programmers based on the unique requirements of the project. Several types of developers are available for hire by employers.
You can access any Python programmers, React developers, PHP coders, Machine Learning Engineers, Swift coders, and more by working with Turing. Turing offers a free trial and different pricing tiers to ensure you get the perfect fit for your business.
The TURING platform helps business executives and developers find top-quality engineering talent anywhere in North America. Clients can quickly search, screen, interview, rate, review, and hire candidates.
Pros 
Open 24/7.
Allows for screening of prospective employees before meeting them in person.
The platform gives prospects time to polish their resumes without pressure from recruiters.
The platform doesn't charge clients upfront costs
Cons
It doesn't allow managers to contact potential employees first via phone or email.
Epic Jobs is an online portal where those seeking employment can find projects with large, national organizations that provide significant opportunities for developers with a range of experience and qualifications.
Easy. All you have to do is use Twitter to post your openings. Then, when you're done, attach the tweet to the online form and add any other media (i.e., a picture or video) you might have to the submission.
Using a simple technique to promote positions easily, Epic Jobs gets more attention than traditional marketing by increasing its reach by tens of thousands of followers.
In the same way, you can also ask Epic Jobs to tweet for you from their official Twitter handle if you do not have an account. Furthermore, Epic Jobs provides you with the option to be included in their weekly video tweets, as well as producing spotlight videos tailored to your job announcements.
Even though basic Twitter packages are free, paid options are very affordable. In addition, epic Jobs is an intuitive platform and is extremely popular on social media.
Pros 
Utilizing only 140 characters can help companies target potential employees who may never see their jobs posted elsewhere.
Epic Jobs has a high-traffic Twitter following, allowing them to communicate better with qualified candidates who would otherwise miss out on the opportunity.
They offer personalized support for employers.
They are an all-inclusive site that advertises jobs across multiple industries.
Cons 
Your company's name will not appear on the tweet
The website isn't optimized for mobile device
ValueCoders is an Indian software development company that offers a range of developer services to companies that cannot find personnel in-house. The company, which has over 450 employees, specializes in working on technology like iOS and Java to Java.
One way to find an excellent freelancer is by using a freelance marketplace like ValueCoders. With thousands of jobs posted by clients, we are sure you'll find the perfect person for your project. Just remember not every person has the skills you need, and sometimes you might have to compromise on requirements to make things work.
It is designed to deliver reliable, scalable, and robust solutions to clients worldwide. In addition, we offer a money-back guarantee if you're not satisfied. There are flexible payment options (fixed-price or monthly), and top brands trust ValueCoders' full-stack programmers.
Pros
A big plus with ValueCoders is that they consider special requirements for each client.
Cons
This may not be the best option if you want someone who can quickly complete tasks due to communication barriers.
Sunscrapers are a team of experienced developers who can provide technical expertise tailored to suit a company's business objectives. In addition, they are experts at connecting clients with developers who can support their needs.
At Sunscrapers, there is a huge range of tech. That being said, if you need something that isn't in-house, our team of engineers can go find you whatever it is you need.
Apart from that, it's quite straightforward as a client. You must select a programmer who matches your requirements and submit a brief specification of what you need to be done.
Across all industries, companies trust Sunscrapers to build specialized technology. So whether it's about a talented developer or other resources, Sunscrapers has covered you. Their extensive experience includes projects for some of the world's leading brands, such as Unilever, Volvo, and ESPN.
Sunscrapers offers Python and JavaScript expertise and data science and web development services to leading brands and startups.
Pros
24/7 customer service, direct contact with developers
Multiple price options depending on scope; easy-to-use interface.
Cons
The pricing structure is not very transparent, so you may want to consult with a representative before committing to anything.
Sometimes freelancers ask for upfront payment before delivering any code, which can be concerning if this happens more often.
Based in San Francisco, Hired was founded in 2012 and offers recruiters and tech companies to help find software developers and engineers. With 14 locations worldwide, Hired is a global technology matchmaking platform for employees.
The recruitment process entails pre-screening applicants based on their experience, skills, and requirements for compensation.
An automated AI-powered matching algorithm helps employers save time when recruiting candidates. If a leading brand or company needs developers for their projects, they turn to Hired.
Pros
It's fast
AI-powered matching algorithm.
Cons
No customer care chat option
Some freelancers can do it all. Others specialize in a certain area, such as backend development or search engine optimization. Find out more about how nomadic sort works and why they are among the best in their field.
Nomadicsoft specializes in hiring freelance web developers from around the world with expertise in mobile app development, design, UX/UI, and server management. In addition, they allow you to find high-quality freelance web developers with extensive coding experience on platforms like Ruby on Rails, Swift, JavaScript, and Python.
Nomadicsoft is best if you want a quality web developer who knows what they're doing and can get things done efficiently. With their team of experts, both past clients and current employees rave about their work ethic and talent for producing quality products time after time.
How to Hire a Great Freelance Developer?
It's no secret that hiring web developers can be difficult, especially if you don't have the cash to invest in an in-house team. Many sites can help you find great freelance developers, saving you time and money! While there is no one specific approach to finding the perfect freelance developer, here are a few helpful steps to find the right one
Look at Their Portfolio and History of past Projects
Look for those with a lot of experience with your desired skill set. If you don't see any evidence in their work, ask them if they have done anything similar to what you need.
Consider the Price and Make Sure It's Reasonable
Prices can vary from freelancer to freelancer. Many factors affect pricing, such as location, industry expertise, education level, etc.
Meet the Freelance Developer  
After researching and narrowing down potential candidates, set up a meeting with the best three or four developers. First, go over all your needs and expectations, then decide which developer best suits your project.
Once you've found someone that fits the bill, send them an NDA (Non-Disclosure Agreement), so they cannot share sensitive information about your company or organization.
Discuss the Project in Detail
What it entails, how long it will take, and the budget. Find out how they would tackle this type of project because different freelancers specialize in different areas. Ask for references and testimonials from previous clients if possible. Ask for samples of their work or reviews on sites like Upwork and LinkedIn.
Find out How and When They Will Get Started.
As stated earlier, different freelancers have different timelines and processes. Some can start working immediately, while others take a little more time to familiarize themselves with your business.
Be sure you understand their process, so there are no surprises along the way. How do they prefer to be paid? Some like many upfront payments, while others prefer monthly or weekly paychecks. How will you keep track of progress and review deliverables?
How Much Does It Cost to Hire a Freelance Web Developer?
Hiring a freelance web developer can be very expensive, but there are strategies for saving money. The first thing you should do is request quotes from five different freelancers and negotiate with them based on your budget.
You may be able to get freelancers in some foreign countries for half the price as well. Remember that they will most likely charge per hour rather than per project, so try to break down your idea into specific steps that one or two people can do.
What's the Best Website for Finding Freelance Web Developers?
Upwork and Turing is a great website for finding web developers with various skill sets. It's easy to use, and you can find what they have done in the past and what they can do now. The best part? There are varieties of talents on the site with different skills.
Is There a Freelance Web Developer
Do you have a hard time finding web developers for your project? There are many freelance sites available, but if you're looking for the best out there, this list of top 15 may be able to help.
Where Can I Find Great Developers?
Finding quality web developers isn't easy, but it's possible. Unfortunately, quality freelancers will be few and far between, but with a little work and some luck, you can find someone suitable for your project.
The best way to start is by going online and surfing sites like Upwork or Turing. These sites have many talented programmers who'll bid on your job once they know what it entails.
Wrapping Up
Freelancers are great for small business owners. They can tackle specific tasks, freeing up the business owner's time and budget to focus on the bigger picture. The list above has a handful of sites where you can hire freelance web developers for projects big and small.
Some specialize in design work, while others offer services like animation or coding. It all depends on your needs and how much work you need to do. There is no one-size-fits-all solution when hiring freelancers because each freelancer specializes in different skill sets that may be perfect for your needs.
So if you need some extra workforce on your next project, look no further than the world of freelancing. You're bound to find someone right for the job at one of these sites. We hope this guide proves helpful when finding freelance web developers and designers. Good luck!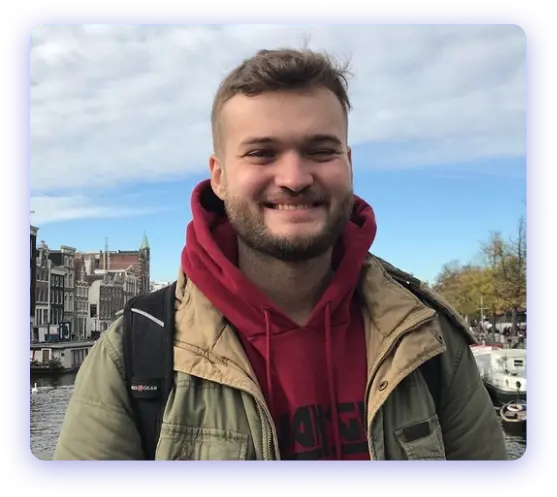 Entrepreneur and full-stack web developer capable of multitasking and completing large-scale projects in a short period of time. Founder of moy-razmer.ru and nomadicsoft.io, large experience in e-commerce and various SaaS projects