Building a digital storefront for your online business isn't an easy job. You'll have to accommodate all these three- innovation, strategy, and execution to build an immersive shopping experience for your customers.
Do you know that half of the consumers (50%) believe that a website's design is a critical aspect for any business or brand to grow?
Why? Because the website trends are ever-changing, and your business model depends on them. Therefore, developing a visually-aesthetic website with user-friendly options can help you generate endless possibilities for your business.
However, you must keep it relevant, clear, and user-centric to capture more attention from your customers.
Considering the growing demand for ecommerce platforms, designing a unique strategy for your ecommerce web store can lead your business in the right direction. More than that, you'll have to develop an engaging ecommerce site that not just sells but also retains customers.
Luckily, this comprehensive guide encompasses all the best practices for a smooth ecommerce website development. Let's unravel them step-by-step for a better understanding.
Choose a suitable type of ecommerce website for your business model
Whether you're a retailer or wholesaler, knowing which type of business you're catering to is vital to pick the right ecommerce website type.
For this, you'll have to list your business objectives first to determine an ideal ecommerce web development type that suits your business needs. Rest assured!
We've categorized all the types of ecommerce websites to help you make the best selection.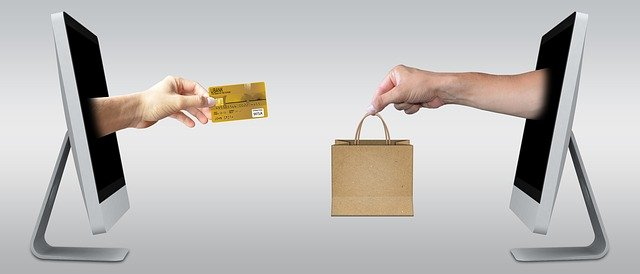 B2B ecommerce platform
A business-to-business ecommerce platform targets particular companies to sell off various products and services. If you want to promote your ecommerce business to other businesses, such as Alibaba or Amazon, you can expand your reach by developing a B2B ecommerce website.
B2C online store
A business-to-consumer ecommerce website represents the perfect opportunity to meet the needs of your end-consumers directly. If your products or services are customer-centric, an approachable B2C website highlights them and lets you sell your products individually. For instance, Flipkart focuses on providing consumer electronics, home essentials, and more.
C2B web store
Unlike conventional ecommerce business stores, a consumer-to-business ecommerce store enables individual consumers to sell their products and services to businesses. If you want to collaborate with other business buyers, ultimately offering them increased profits, a C2B website is your best bet.
C2C ecommerce store
A consumer-to-consumer online ecommerce business store facilitates individuals privately with the involvement of a third-party website platform. If you want to promote your products and services while empowering commission-based offers and ad models like eBay, building a C2C platform is a perfect choice.
Consider these key points before development of e-commerce website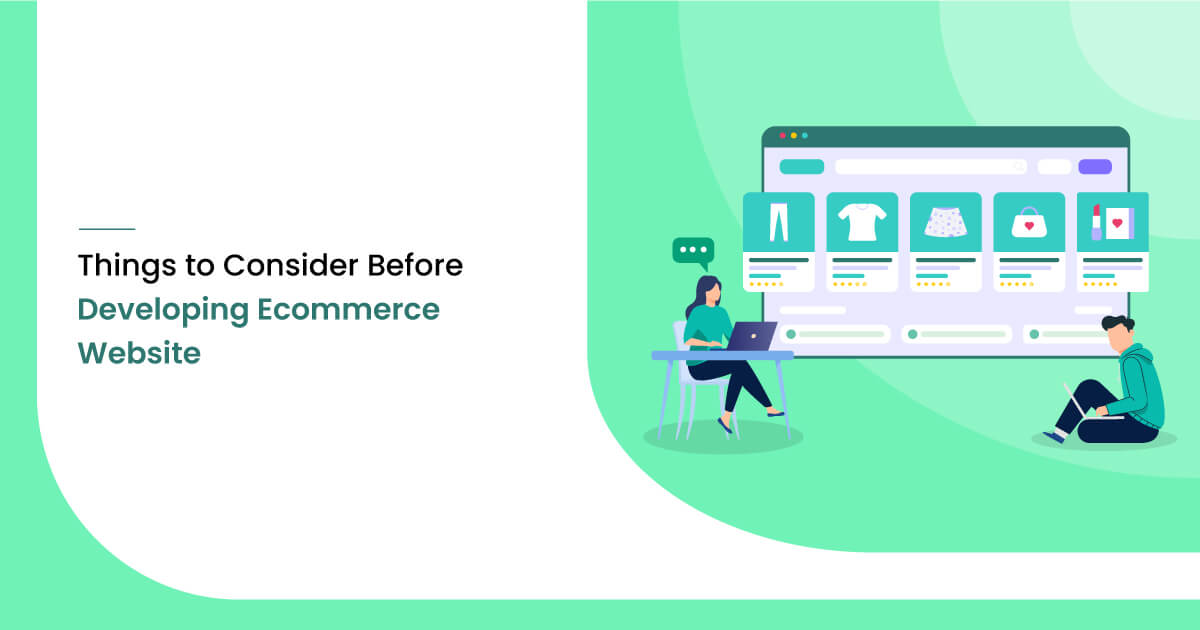 As a beginner, evaluating your options before building your ecommerce store can play a significant part in the development phase. Keeping some key considerations in mind will help you enhance your overall website with the right assortments.
Budget strategy
Having a budget strategy from the start can help you overcome any budget constraints during the process. A smart-budget plan enables you to meet your ecommerce objectives without spending millions from your pocket. Also, it will allow you to save & invest in the right tools so you can get enough sales & expected ROI along with future growth opportunities.
Market study
You'll need the required vision & skillset to compete with the growing ecommerce trends in the market. It's essential to analyze the market first and learn about futuristic website trends before developing your online store. Further, you can organize surveys or meet-ups to assess ecommerce services from the customer's lens and understand what works best for your target audiences.
Strategic planning & analysis
Based on your business goals and competitors, you need to analyze the current customer-building techniques, SEO tools, & marketing indicators to expand your market reach.  Many reputed ecommerce companies utilize online tools like Google AdWords, SEMrush, & more to take their business to an advanced level.
Pick the best ecommerce platform for your store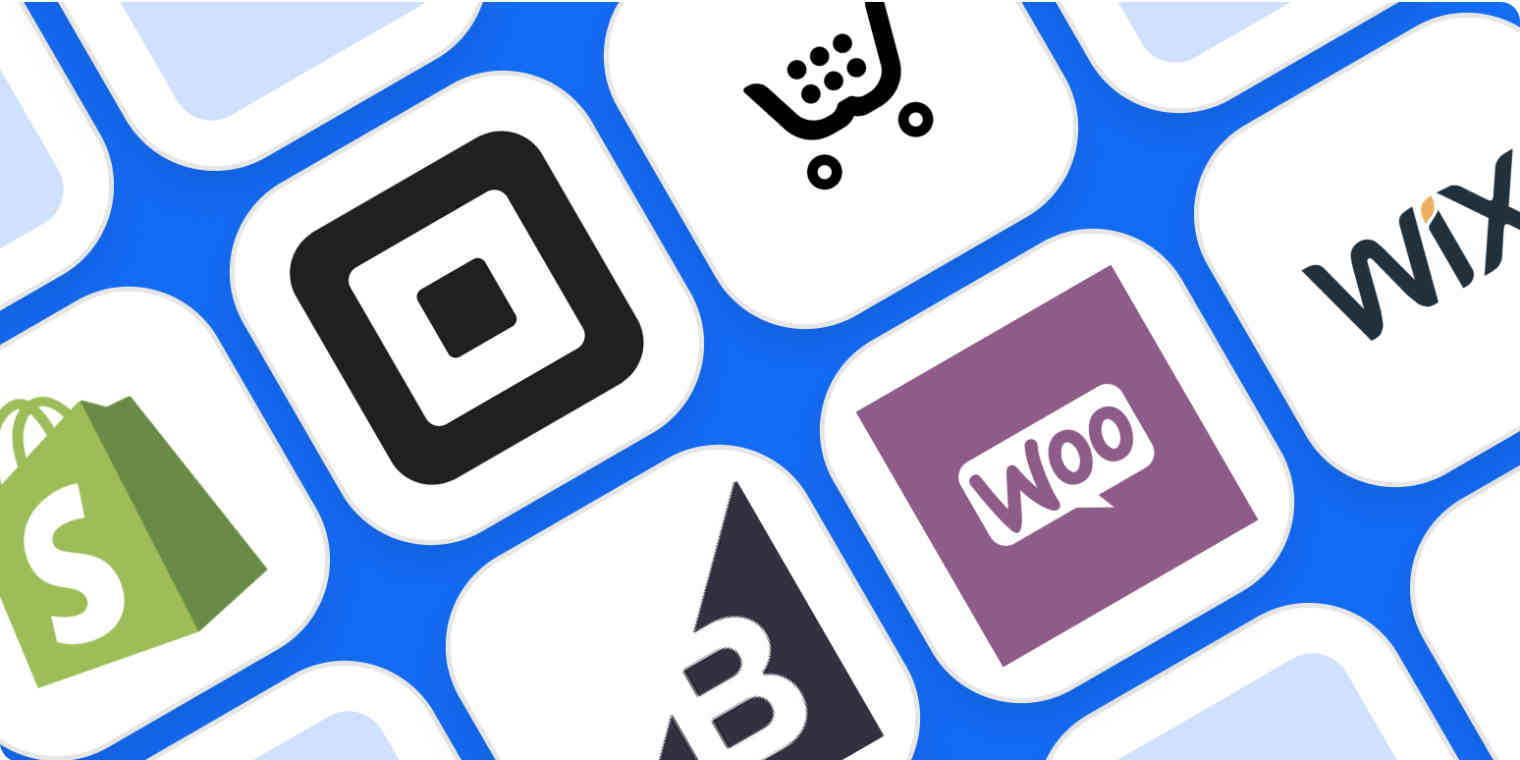 Today, you have a plethora of ecommerce platforms to choose from based on your list of criteria. Choosing the most suitable ecommerce building platform is a vital step for your business.
With the presence of different ecommerce development platforms, you'll have to pick one that offers ecommerce solutions resonating with your business objectives and online store needs.
For starters, choose a platform that provides better pricing, convenience, user-friendly tools, SEO-friendliness, & mobile-oriented options. If you want to learn more about your preferred ecommerce building platforms, we've gathered the list of the best ones here.
WooCommerce
This platform is useful for WordPress websites as it transforms them into fully-functional ecommerce stores. WooCommerce is also one of the most popular open-source platforms offering unique themes specifically designed for WordPress. Further, it provides free shipping, extensive marketing tools, order management, and a built-in blogging feature to small businesses.
Shopify
Shopify is one of the easiest platforms for store customization. The ecommerce store provides a seamless experience and complete ecommerce solutions to beginners and experts. It offers user-friendly themes and an intuitive interface to create a custom website for small businesses. Other features include convenient payment options, 3rd party shipping apps, & more.
Magento
Magento is an advanced ecommerce platform for medium-sized businesses. You'll need a specific skillset to build a customer-centric site on this open-source platform. It offers an ocean of comprehensive tools like a content management system, administrative panel, inventory, consumer segmentation options, & other benefits.
Volusion
As a cloud-based ecommerce platform, Volusion provides cutting-edge features and functions to deliver an enhanced user experience. It offers many powerful tools, payment options, responsive themes, custom product displays, & much more.
BigCommerce
One of the most feature-rich platforms, BigCommerce provides seamless integration and advanced functionalities with 24/7 available customer service. The platform allows businesses to sell their products on Amazon & eBay with its multi-channel ecommerce function. Moreover, you receive global support, marketing tools, webinars, & guides.
PrestaShop
PrestaShop is an open-source platform that delivers innovative ecommerce solutions with a freemium and premium version. The freemium version features vivid tools, while the premium one provides more highly-optimized options on a limited budget.
Decide the cost & opt for an ecommerce web-hosting platform
Once you've decided on a suitable ecommerce platform for your web front, confirm its accessibility to other customers and businesses. You can publish your store online by choosing a dedicated web-hosting platform that fulfills your criteria.
However, it's essential that you allocate the cost first before going through a list of these ecommerce solution providers.
Fortunately, most of these ecommerce website development platforms offer reasonable prices with easy options to scale your business nationally or internationally.
So, suppose you want to get the best hosting options. In that case, it's better to choose the one offering better page speed, high uptime, customer support, high volume bandwidth management, security, & mobile capabilities.
You're clueless; you can opt for ecommerce platforms like GoDaddy, Bluehost, SiteGround, iPage, etc. to host your ecommerce store.
Bring your customer's attention with a dynamic ecommerce web development

The most crucial aspect of designing a digital web front for your business is to choose a visually-pleasing layout that offers a hassle-free experience to your customers.
Since your customers will be visiting your store for the first it's, it's vital that you create a strong first impression and grab their attention. Most of you'll need to implement easy navigation, actionable options, & well-designed elements to improve the overall customer experience.
For a responsive web design, take a look at this list to build an eye-grabbing ecommerce store.
Keep it clear & convenient
Ultimately, the goal of your store is to attract as many customers as possible and compel them to buy your product. That's why you need to keep your customers in mind before designing a web store. Ensure to keep a minimalist web design by providing clear images to its users, as not all of them can be tech-savvy or mobile-ready.
Avoid blasting colors
While designing your ecommerce store, use a sophisticated color palette to provide a calming effect to your website visitors. Create a unique color identity across all the web pages to draw an effective branding strategy.
Create a personalized UX
To create a personalized user website, it's really important to learn the dos and don'ts of a customer-building experience. The first thing is to provide ease of purchase by putting up the right display buttons on your homepage. Add product images, videos, & concise menu bars to provide easy navigation.
Build credibility
With as many options in the market, you need to build credibility for your customers by allotting a section for customer testimonials on your website. Organize your products into categories and use compelling copies to highlight your product description.
Simplify purchase
Save your customers from a lengthy purchasing process by applying filters, search bars, and a frictionless checkout option. You can also add a section for contact information, billing & shipping details to avoid any last-minute confusion.
Apply unique elements for an engaging shopping experience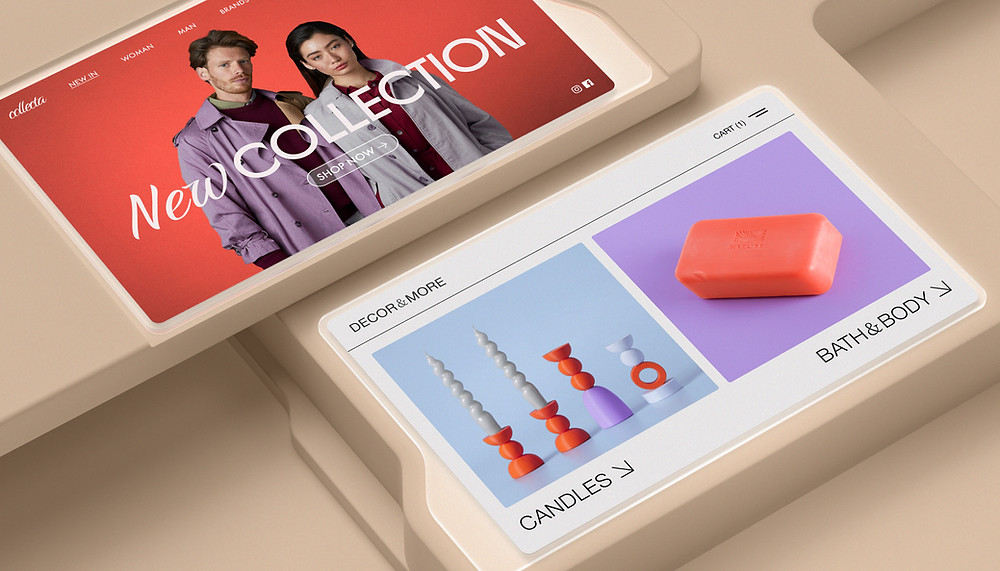 Building an ecommerce store is beyond designing; it's also about providing an enhanced shopping experience to your customers. By incorporating a few essential elements into your website design, you can boost your sales and ROI. Want to know more? Take a look at these aspects now.
Categorization & search
Putting each product & service under a relevant catalog can ease your customer's buying process. It helps build relevancy and clarity for users. Further, you can add keywords and phrases to your products to score quick data searches. Remember, adding a customizable search option for your users is essential, so don't feel lost during the process.
Rank optimization
Developing a website isn't enough to generate high sales revenue. You need to improve your website's discoverability by ranking it on search engine. That's why most businesses acquire SEO tools & technical expertise to rank their websites on top. By adding rich snippets and a bit of code, you can distinguish your products from other competitors.
Speed & security
If you want to achieve a faster response rate, optimize the speed of your pages to provide a better shopping experience. Also, a secure website works best in customer's interest. Therefore, use security protocols and implement them to protect your website and brand image.
Test your website's performance
Performing a routine check on your website's performance can be fruitful for your business. It enables you to make efficient decisions and make changes accordingly.
Consider user convenience and test all the links to see if there are any broken links. Also, perform a spell-check on your website to avoid any distractions. Lastly, eliminate bugs or errors and see if your website is compatible with all devices.
These crucial elements enhance website's usability and functionality and allow your users to have a safe shopping experience without any inconvenience.
Decide an online payments solution
The online shoppers rely heavily on online payment solutions to facilitate their buying journey. That's why it's crucial to ensure their credibility for your business.
Since there are plenty of online payment options like Google pay and Apple pay, you can choose one that meets your business needs and criteria. The best thing you can do is to check the reputation of the online payment solution first and see if it involves any hidden charges.
Before deciding on one, read their terms & conditions and choose the one that provides security & other payment facilities. You can also allow your users to pick their preferred ecommerce payment solution by offering multiple payment solutions on your website. Doing so, will ensure users have the best online shopping experience at your website.
Plan the Perfect Marketing Strategy

Your ecommerce website is ready to launch, so you need to plan ahead now. If you haven't planned a suitable market strategy for your website, prepare one so you can attract potential customers and expand your business's reach. You can use digital and social media marketing to announce your site's launch date and market your brand effectively.
Designing a perfect marketing strategy can be challenging for beginners as it requires using the right advertising platforms.  An all-rounder digital marketing service can promote your brand across other platforms if you want to boost your sales. Looking for a few tips to elevate your revenue. Here's a guide to help you out.
Social media ads
Social Media is an effective marketing strategy that promotes relevant content and targets your niche audience. Share your brand's story by enabling social media analytical tools on your ecommerce store and business page. You can also use paid social media tools like Facebook Ads, Instagram Ads, etc., to strengthen your brand image.
Email campaigns
If you want to create a more personalized marketing strategy, use email marketing campaigns & tools to target your subscribers. With this individualized marketing tactic, you can compel your users into buying your services and products. It allows subscribers to access relevant content while improving the conversion rate for businesses.
Content optimization
Build a relevant content strategy, including blogs, videos, images, & CTAs, to implement a faster user conversion rate. If possible, use paid campaigns to raise brand awareness among your customers and optimize your content through the right content marketing tools.
Press releases
An effective strategy is to publish press releases for the launching of your business & its website. You can also solve your potential customers' inquiries and inform them about your products and services to expand your reach.
Implement policies for your ecommerce business
Sorting out a list of policies & procedures lets your customers enjoy an immersive experience without any doubts. You can grab your customer's attention by offering better return or exchange policies, such as free shipping on specific orders, unlimited product warranty, & more. To create an effective policy that creates a lasting impression, you must avoid making complex return demands and ensure easy access to your customers. You must keep it concise, simple, & clear so your customer doesn't feel lost or distracted while purchasing. Moreover, keep your staff updated with your customer's concerns and make sure to solve their queries on time by taking the right measures.
Execute promotional offers & discounts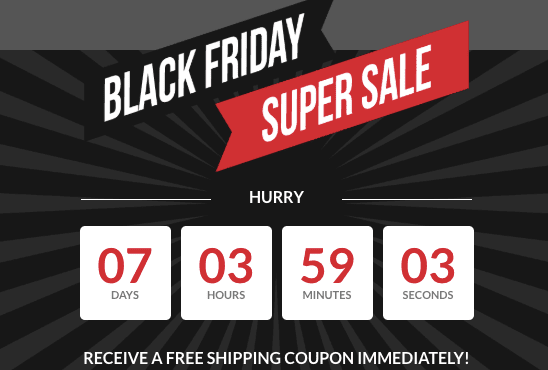 Most ecommerce businesses thrive on exclusive offers, unique deals & discounts to intrigue their customers. By implementing promotional offers on your website and social media pages, you can drive more traffic to your store as well as get massive conversions. However, you need to put innovative marketing ideas and eye-grabbing promotional efforts to accelerate the growth procesLet'st's help you get started with a bunch of promo ideas.
Launch giveaways & contests
Organizing contests on social media platforms excite your potential and existing customers. In this way, you can promote the products & services in your store by offering giveaways to winners.
Provide freebies & promo codes
If you want to gain more followers for your store, try offering free samples of your products to your customers. You can also implement reduced shipping costs on orders above a specific limit or offer limited-time coupons to urge customers.
Arrange flash sales or bundle offers
Another way to quickly grasp your customer's attention is to offer short-time flash sales with urgent CTAs or provide bundle offers to buy-ready customers.
Social media influencers & recommendations
If you own a small business, you can collaborate with social media influencers to recommend your products & services or even offer free giveaways to their followers.
Evaluate your ecommerce website's performance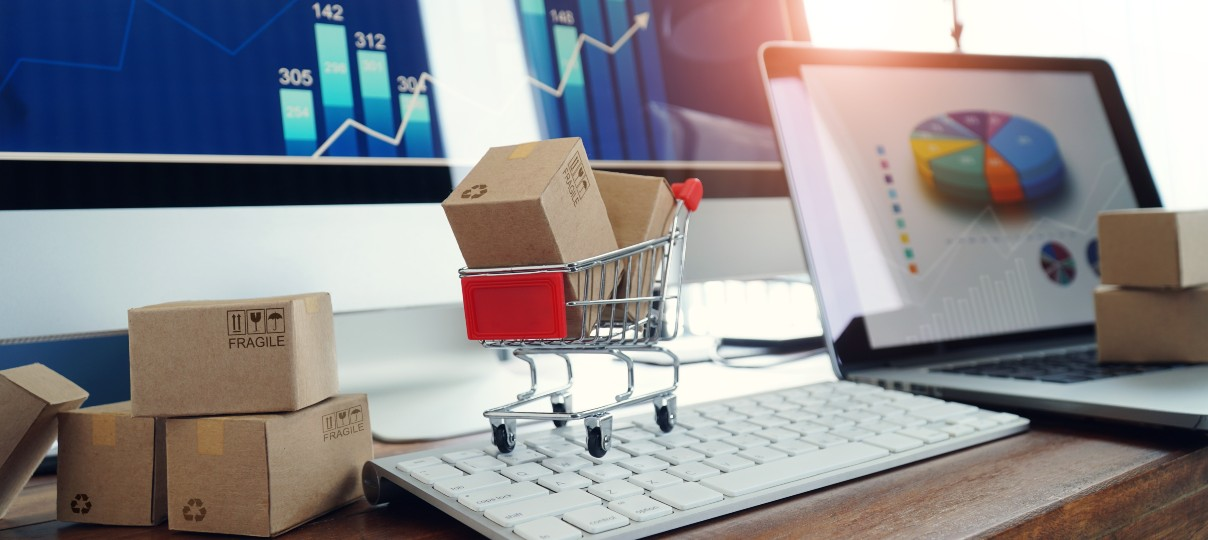 Once you have completed the development process, it's time to measure your website's performance and make necessary amendments. Keeping a check on your site's traffic and overall sales allows you to fix any issues efficiently. Moreover, having a positive sales record indicates that your business is growing remarkably.
To evaluate your business performance, you can help with the required analytics tools like Shopify, Google Analytics, & more. Implementing these tools will help you highlight the products with a higher purchase rate & the ones that aren't performing well. If a specific product isn't showing positive results or generating sales, you may want to remove them from your website.
Moreover, some web pages generate more traffic than others. That's why it's essential to eliminate any page that isn't getting any attention or views and promote the ones that spark interest in your users.
Finally, you can test multiple marketing campaigns and focus on the ones that drive value and growth for your business. If any specific campaign isn't working well, you can choose not to invest in it and save your time & money.
What Makes Ecommerce Websites Convenient for Users?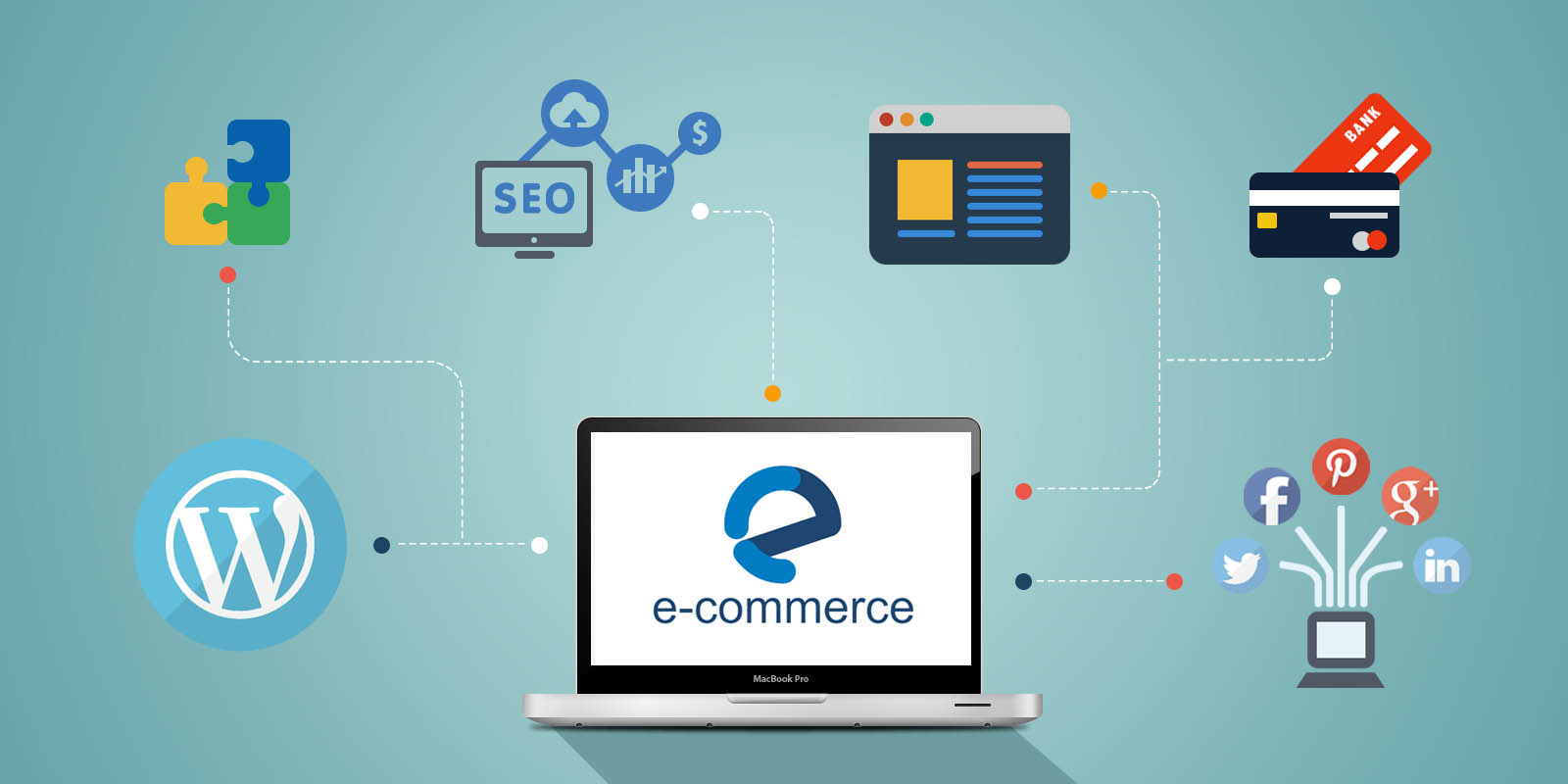 In this competitive era, an ecommerce website connects you with thousands of potential customers and creates endless opportunities for your business. Howevit'sit's only possible if your web store determines a well-defined customer buying journey by offering a seamless shopping experience.
If you want to learn more about the benefits of an ecommerce store, this list covers them all!
Online shopping solution
As a seller, the best part about an ecommerce store is offering a hassle-free solution that is just one click away! All your users must do is visit your store and tap on a list of their favorite products within seconds. Without wasting any time, it helps you make profits and builds a credible reputation for your business so you can smoothly invest in other ecommerce solutions.
 Significant savings
With an ecommerce store, you don't have to spend millions on human power or operational costs. An online website enables you to make big-time savings providing the freedom to build your digital storefront with as less investment as you like. This way, you can plan your budget and eliminate additional costs.
Infinite product listing:
What's better than having a competitive advantage of listing as many products as possible without hesitation? On the contrary, any brick & mortar store has limited capacity to place all your products due to less space. Fortunately, an online store can add all your products without worrying about any space constraints. This will also help your users make the right selection by comparing and analyzing your products.
Scalable business idea
Investing in an ecommerce website is a scalable idea since it gives you the financial independence to start your store on a small scale. Later on, you can scale it up without incurring additional costs. Unlike a brick & mortar store, you can include as many categories as you like and expand your digital store within a short time span.
Accessibility
Whether you're operating your business virtually or from a distance, your users can access your store anytime & anywhere. As a seller, it's up to you to decide whether you want the users to access the store from a specific location or not.
Easy setup
An ecommerce website is inexpensive since doesn't require a fancy space or spending a hefty amount on its development. You'll have to spend a few bucks on its maintenance, but comparative it's way cheaper than building any physical store. Moreover, you can save yourself from time-consuming installations & other procedures.
24×7 customer support
Another unique selling point of having an ecommerce store is its 24×7 availability to provide customer support at any time of the day. Unlike a physical store, customers can visit it anytime and shop for their preferred items without interruptions. With this benefit, your business can maximize its sales & revenue and support the customers by solving all their concerns on time.
Safe shopping experience
Lastly, an ecommerce store provides a secure pathway with leading online payment solutions for you to choose from. You can easily serve your users using secure methods without compromising their safety and allowing them a smooth shopping experience. Its a convenient, efficient, & flexible platform that processes orders from your customers directly.
Effective tips to strengthen the ecommerce website development process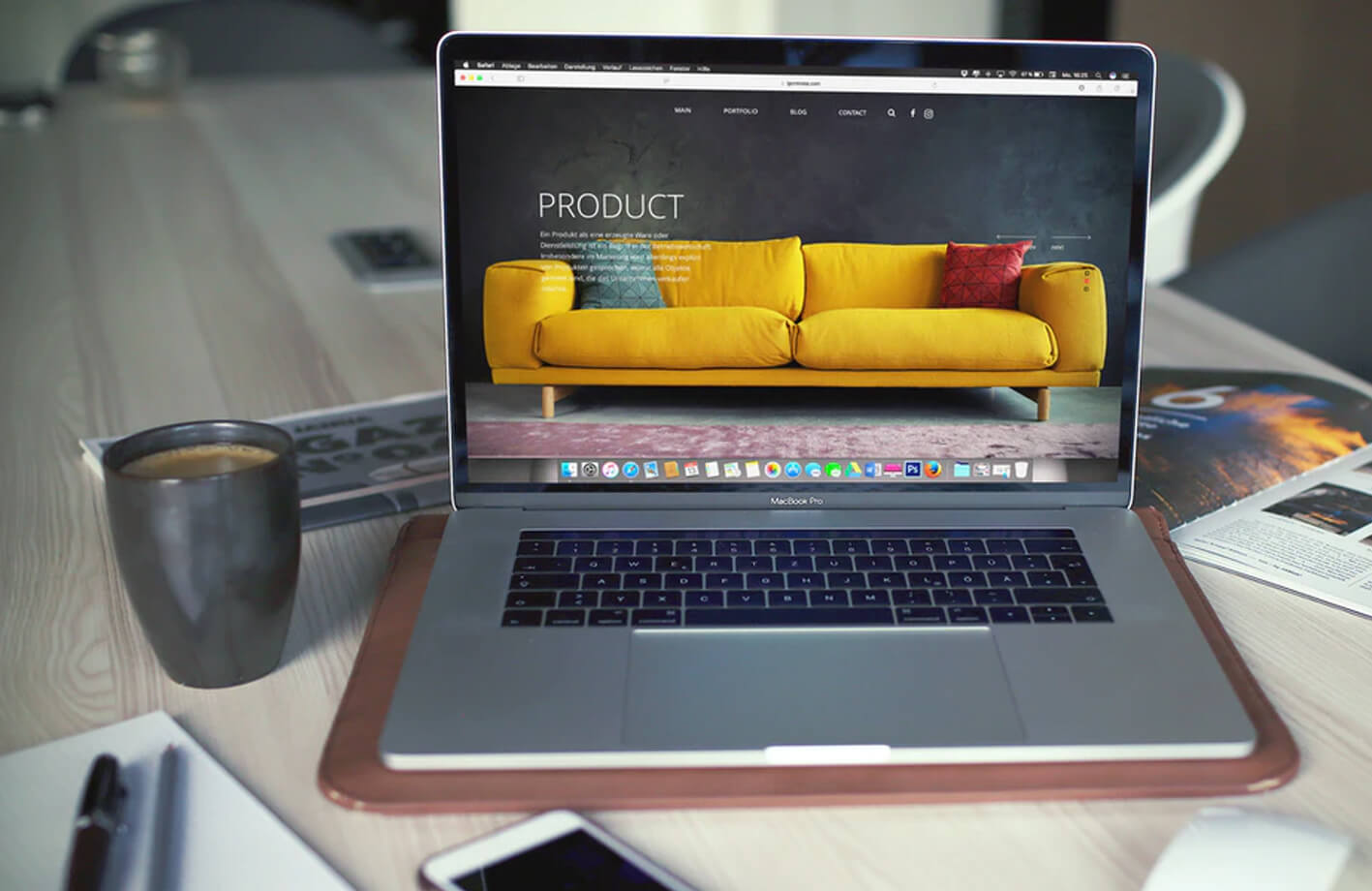 You're a well-informed owner of an ecommerce store. But there are still a few options left to enhance the development process of your ecommerce website. Based on the best practice we've gathered a list of web development tips. Make sure to consult them for a healthy user buying journey and process.
Get a mobile-friendly design
According to the latest data research, there are more than 5.34 billion mobile users worldwide. More than half of these users prefer shopping onliThat'sat's why incorporating a responsive ecommerce website compatible with all mobile devices can bring significant revenues to your business. Make sure that the screen size, product displays, & browser choice of your site look correct on mobile phones and tablets.
Simplify navigation
To ensure easy navigation you'll need to browse your website from user's perspective. Allow your users to navigate easily from one page to another with distinctive menus, pages, & links. Avoid muddling up all your products and dedicate a separate page for each of them. This way, your customers can also directly access the required product from the search engine.
Include a search bar
It may seem like an additional feature, it's the most critical aspect of your website. Adding a search bar on your ecommerce site allows your users to quickly distinguish between thousands of products and select their desired product. Make site location-friendly and mentions recent searches to assist the users effectively.
Add a review or testimonial section
Customers love to read reviews from other users before buying any product. Since you own an ecommerce store it's viable to include a review section on your site to generate credibility and authenticity. Moreover, positive reviews can provide fruitful benefits to your business in the long run and improve the overall image of your brand.
Get a Wishlist feature
Your customers may not be in the mood to shop always. Sometimes they like to exploThat'sat's why adding a Wishlist feature allows them to save their preferred products so they can shop them at a later date. Further, you can alert your customers if the product goes out of stock or send reminders about product's availability.
Add SEO-friendly content
Ensure that your digital storefront includes well-versed product descriptions to help your customers make informed decisions. For advanced SEO application it's better to include minor details on your website, such as warranty information or installation process, to guide your customers. You can also add other product-related information with relevant keywords to provide maximum assistance.
Incorporate suitable payment options
To avoid cart abandonment, you can include flexible payment solutions on your ecommerce website. For instance, you need to accept different methods by cash or credit card to facilitate your customer as much as possible during the purchasing process. You can also include other payment options depending on your customers' needs.
Enable user-sharing option
When buying specific products, users may want to seek advice from their friends or family. Therefore, adding a product sharing option allows them to share their intended product easily via Gmail, WhatsApp, & other platforms. Similarly you'll receive better online engagement if any user decides to share your product on social media.
Implement a call-to-action (CTA)
CTAs like Buy Now, Register Now, Add to Cart, & more are compelling marketing features as they encourage customers to take the desired action. Without a proper call-to-action button you'll probably lose the opportunity to generate more sale: that's why adding as many CTAs as possible to your ecommerce store is vital for your business growth.
Enable email subscription
Your customer's buying journey shouldn't stop after making a purchase. Building an ongoing connection to retain your visitors is equally important for your online store. It's It'sntial that you use email marketing software like MailChimp to provide a signup box to your potential subscribers. With a subscription list, you can send newsletters, product alerts & launches, offers, & so on to invite your potential and existing customers to your website.
Include fill-out forms
If your ecommerce store offers services, it's essential to provide a lead form to your visitors. A lead form allows users to provide their contact information enabling stores to go through a follow-up process. You can also add other necessary forms depending on your stores.
Make continuous improvements
Once you have developed a fully-functional ecommerce website, keep on updating and looking for continuous upgrades. Digital trends are volatile as they change drastically, so you need to have a reformed digital marketing strategy at all times.
Further, you can implement a content management system (CMS) or other software programs to critically analyze website's functions.
Make sure to check your store's average value, maximum reach, conversion rate, cancellation rate, bounce rate, cart abandonment rate, replacement rate, & more.
Shape up your ecommerce web store with these steps NOW!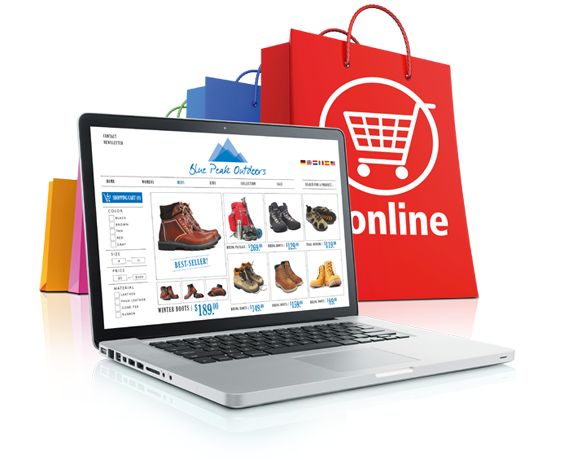 The future of ecommerce belongs to fully-integrated web stores! So, you need a well-thought strategy to secure your brand's position in the market.
As a beginner, you can start by selecting a relevant name for your business and opting for a domain. Next, you can consider the steps involved to help you plan the perfect web development & design process.
Don't miss oDon't the effective tips & techniques to provide an optimal shopping experience to your customers. This guide will let you create a successful ecommerce website while solving all your key concerns.
Frequently Asked Questions (FAQs)
How to determine the features my ecommerce website needs?
Depending on your business model & ecommerce website needs, you can determine specific features and functions. Unlike a conventional website, an ecommerce store should reflect the buyer's journey from beginning to end.
First, decide on a list of features to include on your website and see if all of them align with your customer's need, below are some important features:
·         Page speed
·         Search bar
·         Responsive theme
·         Shopping cart design
·         SEO capabilities
·         Social media integration
·         Flexible payment options
·         Content management system integration
·         Product sorting & filtering
What includes in the ecommerce website development process?
Ecommerce website development involves technical aspects related to the user buying journey, such as fully-integrated features, multiple payment solutions, user-friendliness, & the overall online shopping experience.
What are the ecommerce website development steps?
If you're opting for a custom ecommerce website development, the following are the steps to include:
Step 1: Keeping your business goals & objectives in mind
Step 2: Understanding the customer buying journey and the whole shopping experience.
Step 3: Planning costs & allocating budget before deciding on a platform
Step 4: Determining content & marketing strategy
Step 5: Adding product descriptions & other necessary information
Step 6: Setting up payment options and shipping details
Step 7: Enabling SEO & page speed optimization
Step 8: Installing a review section, customer guide, & customer support service
Step 9: Ensuring design responsiveness & compatibility
Step 10: Launching website & QA session
What are the dos and don'ts of ecommerce website development?
Following are the dos and don'ts for you to understand when it comes to ecommerce website development:
Do write product descriptions and put them under separate labels & links for SEO optimization.
Do offer discounts & promo codes to entice your customers so they can visit your store.
Do a personalized search to overcome the daily challenges of your customers.
Don't use loDon'tolution images and videos. Always provide high-quality images or invest in a good camera to create better product videos.
Don't selectDon'tom items for your featured images. Include related images to your main product.
Don't miss call-to-action (CTAs) buttons, as they provide actionable engagement.
Lastly, don't commit that you can't provide honest interactions with your customers.
Why is the role of ecommerce web development important?
Ecommerce website development plays an integral part in building a strong client portfolio for your business by targeting your desired audience. If you want to reach out to your potential customers, an ecommerce website creates good business exposure.
From start to finish, it effortlessly builds an immersive shopping experience for online buyers while allowing them to opt for flexible payment solutions. Moreover, its process gives you a good business overview to make you understand your business goals & objectives in the initial development phase.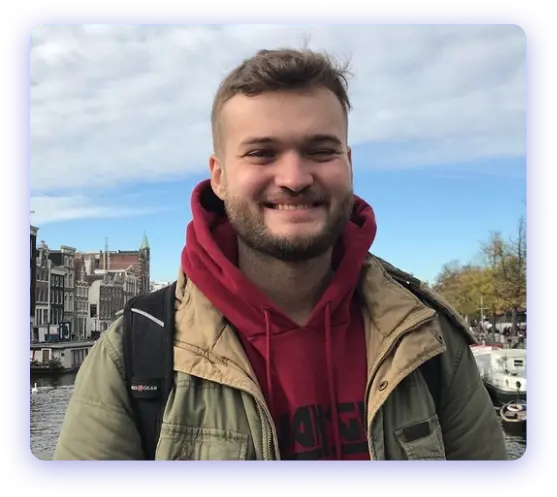 Entrepreneur and full-stack web developer capable of multitasking and completing large-scale projects in a short period of time. Founder of moy-razmer.ru and nomadicsoft.io, large experience in e-commerce and various SaaS projects